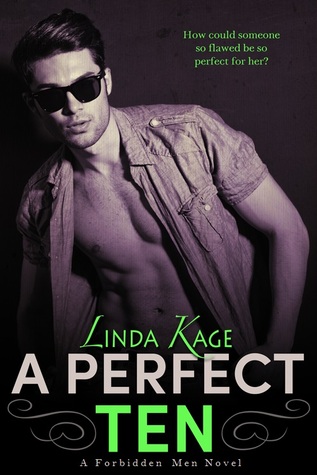 Let your hair down, Caroline, they said. It'll be fun, they said.
I know I've closed myself off in a major way over the past year, ever since "the incident" where I messed up my life completely. It's past time I try to live again or just give up altogether. But this is quite possibly the craziest thing I've ever done. In a last ditch effort to invigorate myself, I'm standing outside Oren Tenning's bedroom, I just peeled off the sexiest pair of underwear I own, and my hand is already raised to knock. My brother would disown me for doing anything with his best friend, and he'd probably kill Oren. But if I play my cards right, no one will ever know about this. Not even Ten.
Maybe after tonight, I'll finally get over this stupid, irrational crush I hate having on the biggest jerk I've ever met. Or maybe I'll just end up falling for him even harder. Maybe I'll discover there's so much more to my crude, carefree hunk than meets the eye.
Book: A Perfect Ten (Forbidden Men #5) by Linda Kage (Goodreads, Amazon)
Published: March 30, 2015
Pages: 435
Genres: New Adult, Romance, Erotic, College, Romantic Comedy
Format: Kindle
Date Read: September 19-20, 2015
Rating: Five Potatoes! 🥔🥔🥔🥔🥔
This book was so much better than I thought it would be! I'm not going to lie, as much as I love Ten, I was worried about reading his book due to his man-whore ways. Boy, was I worried for nothing!
Ten did a complete 180 when it came to Caroline – he loved her so fiercely and changed everything about his lifestyle for her, without question mind you. He wanted to be with her and once they were finally on the same page that was it – they were together. When they moved in together he didn't have any regrets or second thoughts, it was natural for him. And, of course, who doesn't love his comments? I love his humor.
I absolutely loved this story, I had been waiting for it for so long since I was interested to see how it would play out. Ever since I read Noel Gamble's book I knew this couple would eventually be together. And Caroline? She was one of my favorite heroines of all time. She pushed past her comfort zone and just went for her man, She knew they were meant to be together and she didn't let any one or any thing get in her way. You go girl!
What I didn't like about this book: Noel's reaction to Caroline and Ten's relationship. Not cool. I don't want to spoil things for any one but he could have been so much more supportive. On the other hand, he's her older brother who basically raised her so I can understand his protectiveness. But, I still have to defend my boy Ten!
I loved this entire series so far and I would highly recommend all of these books. But, in the event that you are unable to get your hands on all of the books you must read A Perfect Ten and Be My Hero (Ten and Pick, respectively). Pick is a must read though – oh, how I love Pick.