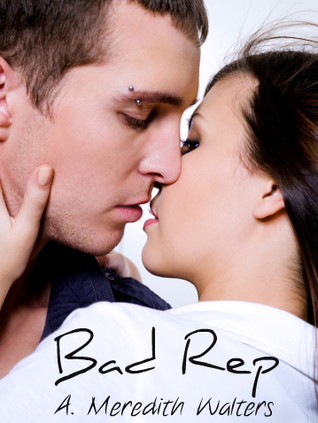 "Who gives a damn about their reputation? Oh, that would be me! Especially since mine had gone straight to hell in the span of thirty minutes".
Maysie Ardin is soaking up the summer before her junior year of college, shopping, hanging by the pool and shopping some more. But when her black belt in spending lands her in trouble with her parents, she is forced to take a second job at a local bar to dig herself out of a deep financial pit.
She thought she'd be miserable. But then Maysie didn't count on Jordan Levitt, the hot, pierced and tattooed, drum playing bartender who also happens to be very interested in her. And the feelings are totally mutual.
It had the makings of the perfect romantic set up. Boy meets girl. Boy likes girl. Boy has girlfriend? Okay, maybe not.
But attraction is a hard thing to ignore and soon Jordan and Maysie find themselves in the middle of a gossip induced firestorm. Maysie has to learn whether she can set aside her fear of public disapproval in order to be with the one she wants. Or will she let the opinions of others dictate her life and her heart?
Book: Bad Rep (Bad Rep 1) by A. Meredith Walters
Published: December 21st, 2012
Pages: 444
Genres: Romance, New Adult, Tattoos/Piercings, Swoony Male
Format: Kindle
Date Read: January 01 to 02, 2013
Rating: 5 Potatoes! 🥔🥔🥔🥔🥔
I was only going to give this book 4 stars but I loved Jordan so much I decided he's worth more!
Mays really pissed me off, the only thing that kept me reading was Jordan. I understand her hangups and its easy to see why she'd have all of her insecurities but enough is enough. Jordan did everything he could to reassure her and it still wasn't enough!!!! At one point I wanted him to stop fighting for her and find someone worthy!
*spoiler alert* Thank God they got their acts together in the end! When things were good between them they really were a perfect couple, such chemistry! So yeah this book gets five stars simply for the fact that I loved Jordan so much! He's so yummy! This book was worth the read just for him alone so check it out!