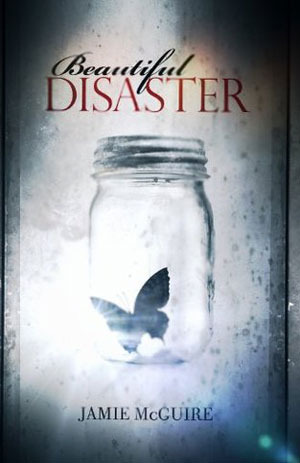 The new Abby Abernathy is a good girl. She doesn't drink or swear, and she has the appropriate number of cardigans in her wardrobe. Abby believes she has enough distance from the darkness of her past, but when she arrives at college with her best friend, her path to a new beginning is quickly challenged by Eastern University's Walking One-Night Stand.
Travis Maddox, lean, cut, and covered in tattoos, is exactly what Abby needs—and wants—to avoid. He spends his nights winning money in a floating fight ring, and his days as the ultimate college campus charmer. Intrigued by Abby's resistance to his appeal, Travis tricks her into his daily life with a simple bet. If he loses, he must remain abstinent for a month. If Abby loses, she must live in Travis's apartment for the same amount of time. Either way, Travis has no idea that he has met his match.
Book: Beautiful Disaster (Beautiful 1) by Jamie McGuire
Published: May 26th 2011
Pages: 319
Genres: Athlete Hero, Romance, Tattoos/Piercings, Sexy Alpha Male, Swoony Male
Format: Kindle
Date Read: September 26 to 27, 2011
Rating: 5 Potatoes! 🥔🥔🥔🥔🥔
Love love love! I laughed, I cried and I yelled with this story. So good.
So um, where can I get a Travis?
ETA 2016: I have re-read this book quite a few times since my original review and I love it more each time. It's a book I rate all of my books against and I always end up coming back to it and thinking of different parts at any given moment. I'd give it a more than 5 star review if such a thing was possible! I love Travis and Abby… I don't think I've ever loved a book more. Movie, please!!